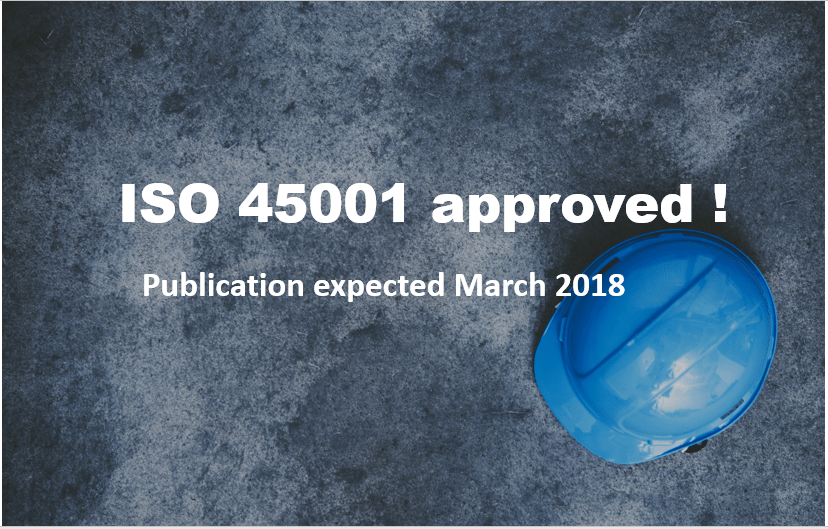 Hasil pemungutan suara yang telah dilakukan untuk draft final ISO 45001 adalah 62 suara setuju, 4 suara menolak, dan 9 suara abstain. Dengan demikian draft final ini sekarang telah secara resmi dapat diterbitkan sebagai Standar Internasional baru.
Draft final ISO 45001 telah memenuhi persyaratan dari ISO/IEC Directives, Bagian 1, Klausa 2.7.3 untuk persetujuan, sehingga sekarang standar ini sudah dapat diajukan untuk dipublikasikan.
Menurut perkiraan komite ISO proses publikasi akan memakan waktu 2 hingga 3 minggu karena dipengaruhi faktor eksternal diluar kendali ISO seperti penetapan nomor ISBN. "We estimate that the publication process will take 2 to 3 weeks to complete (we cannot be more precise, as some factors are outside of ISO's control e.g. designation of the ISBN number)" demikian dinyatakan oleh komite ISO di website resminya.
Standar yang baru disetujui ini dikembangkan oleh komite yang terdiri dari para ahli dibidang keselamatan dan keselamatan kerja. Standar ini juga mengikuti pendekatan sistem manajemen umum seperti yang di terapkan oleh ISO 14001:2015 dan ISO 9001:2015. Dengan demikian nantinya tentunya proses integrasi standar manajemen akan semakin mudah dilakukan.
Standar tentang kesehatan dan keselamatan kerja ini juga telah memadu kandungan-kandungan yang terdapat di OHSAS 18001, ILO-OSH Guidelines, berbagai standar nasional dan ILO" International Labour Standards and Conventions. Dengan berbagai macam paduan tersebut diharapkan standar ini benar-benar mampu menjawab berbagai permasalahan yang terjadi terkait dengan kesehatan dan keselamatan kerja yang terjadi di dunia.
Perusahaan tentu akan sangat diuntungkan jika menerapkan standar ini. Karena dengan demikian risiko terjadinya kecelakaan kerja dan penyakit di lingkungan kerja akan jauh berkurang. Sehingga kerugian-kerugian dari banyak sisi, seperti pengunduran diri karyawan, ketidakhadiran karyawan, dan meningkatnya biaya asuransi akan dapat dihindari.
Sumber :
//committee.iso.org/sites/pc283/home/news/content-left-area/news-and-updates/isofdis-45001-approved-for-publi.html
//www.iso.org/iso-45001-occupational-health-and-safety.html
Gambar: Designed by welcomia / Freepik