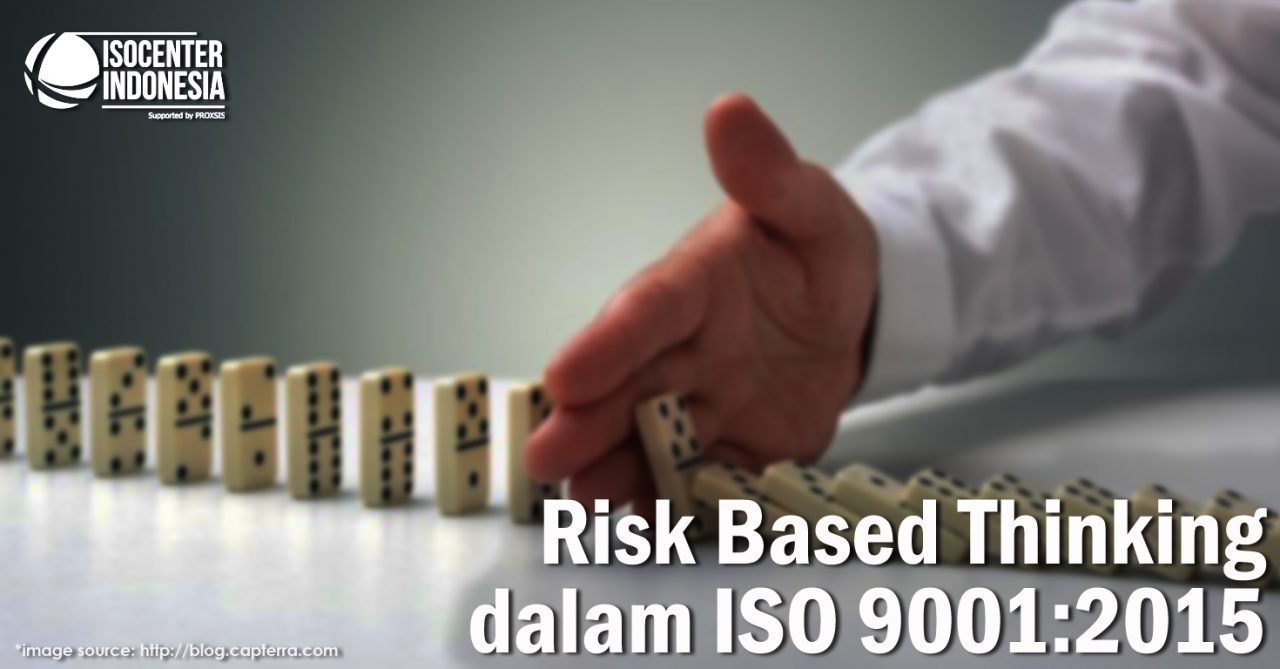 Diantara salah satu kunci perubahan dalam ISO 9001: 2015 adalah adanya pembahasan risiko yang tidak lagi implisit atau terbatas pada unsur-unsur tertentu dari proses manajemen mutu. Risiko kini ditangani seluruh standar dan dibangun ke dalam keseluruhan sistem manajemen. Standar ISO 9001:2015 juga memiliki persyaratan eksplisit mengenai Risk Based Thinking (Pemikiran Berbasis Risiko) untuk mendukung serta meningkatkan pemahaman dan penerapan pendekatan proses.
Dalam ISO 9001: 2015, Risk Based Thinking membuat Preventive Action (Tindakan Pencegahan) menjadi bagian dari perencanaan strategis dan operasional, sehingga referensi standar sebelumnya terkait "Preventive Action (Tindakan Pencegahan)" telah digantikan dengan "Actions to Address Risks and Opportunities (Tindakan untuk Mengatasi Risiko dan Peluang."). Perusahaan sekarang diharapkan untuk mengidentifikasi risiko dan peluang, mengeksekusi langkah S.M.A.R.T. sesuai sasaran mutu dan perencanaan perubahan. Pertimbangan organisasi  terhadapa risiko diharapkan lebih bersifat proaktif daripada reaktif untuk faktor-faktor yang dapat mempengaruhi SMM mereka. Pada dasarnya, Risk Based Thinking mengubah seluruh sistem manajemen menjadi alat perencanaan pencegahan.
Risk Based Thinking adalah bagian utama dari pendekatan proses, memastikan bahwa risiko dipertimbangkan dari awal sampai akhir proses. Kunci utama dari pendekatan proses adalah proses organisasi yang beroperasi sebagai sebuah sistem yang terintegrasi. Dengan memahami kegiatan proses yang berfungsi sebagai sistem yang lengkap, akan membantu organisasi untuk mencapai hasil yang lebih konsisten. Dengan demikian organisasi harus mempertimbangkan aktivitas input dan output; serangkaian kegiatan dalam proses; proses dalam sistem; sasaran dimana sistem harus beroperasi; dan kemana sistem harus diarahkan.
Untuk organisasi yang sudah memiliki budaya pemikiran berbasis risiko dalam proses bisnisnya, maka mereka akan mengimplementasikan update ISO 9001:2015 sebagaimana mereka biasa mengoperasikan bisnisnya. Namun, bagi organisasi yang baru mengenalnya, Risk Based Thinking akan memberikan tantangan tentang pendekatan berbasis risiko untuk Sistem Manajemen Mutu, terutama dalam pergeseran cara berpikir tentang risiko.
Demikian penjelasan dari kami, semoga bermanfaat.
Jika anda tertarik untuk mengikuti training ataupun workshop berkaitan dengan ISO sejenis, silakan klik berikut.